Pickering's Cables & Connectors Map
A single sheet reference to our entire range of cable and connectors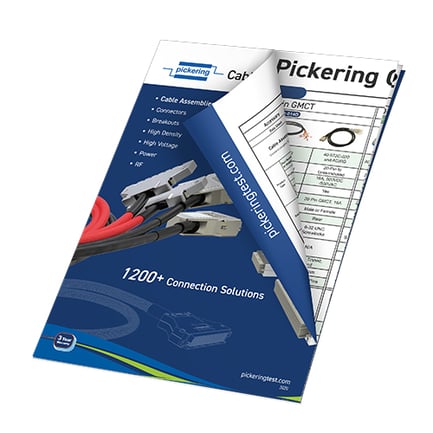 Pickering Interfaces provides a full range of supporting cables and connector solutions for all of our PXI, LXI & PCI switching solutions. We offer everything from simple mating connectors through to complex cables assemblies and terminal blocks.
Every accessory is designed to ensure you have a trouble-free experience in connecting our products to your test system.


Don't see one you need, try our Cable Design Tool where you can design your own custom cable assembly.
Features of our Cable Design Tool include:
Graphical design of customized cable assemblies
Built-in library of standard cable sets. To be used as the basis for customization, or cables can just be defined from scratch
The ability to store cable assemblies in the Cloud and develop over time
Each cable design has a pdf documentation file detailing all of the specifications
Allows very detailed design characteristics including - selection of connector types, wire type, pin definitions, pin and cable labeling, cable bundling, length selection, sleeving, comments, etc.
Have questions or want to know more about our cables and connectors?