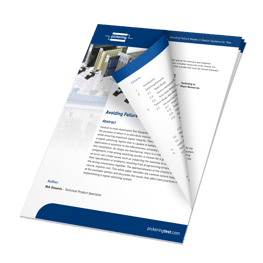 Take a look at our white paper:
Selecting and implementing a signal switching regime that is capable of withstanding the demands of the application is essential to the effectiveness, accuracy and repeatability of the test installation. As relays are mechanical, there is a risk of overstressing these components if the wrong switching system is chosen for a given application. Such an error can create issues such as subjecting the switches to voltages outside their specification or problems resulting from programming errors that short the wrong connections together. The appropriateness of the choices made, of course, impacts cost.
This white paper identifies the common failure modes, looks at the available options and discusses the issues that affect best practices in implementing a signal switching system. Details include:
The different elements of switching

Failure modes with relays

Potential cable challenges

Test strategy options
After reading this white paper you will learn that designing a test switching system is vital to protect the system from damage which can occur if a technology is selected which is inadequate for the application. Although good quality relays are available, the application may force significant derating which must be considered to guarantee the rigorousness of the test data.
If you would like additional information or have questions about this white paper, please contact us.

Take a look at some of our other white papers below or visit the Resource Center on our website.