Take a look at our white paper: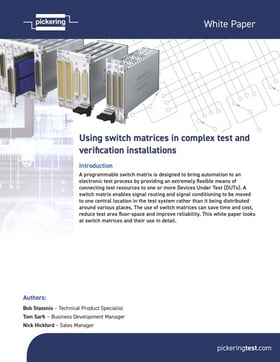 Defining a test system can be challenging and your goal as a test system architect is to accelerate your test system design process. A programmable switch matrix is designed to bring automation to an electronic test process by providing an extremely flexible means of connecting test resources to one or more Devices Under Test (DUTs). A switch matrix enables signal routing and signal conditioning to be moved to one central location in the test system rather than it being distributed around various locations.
This white paper can help you to understand how the use of switch matrices can save time and cost, reduce test area floor-space and improve reliability. Details include:
What is a matrix

Matrix sub-types

Configuring a large matrix

Maintenance
If you would like additional information or have questions about this white paper, please contact us.

About Pickering Interfaces
Pickering Interfaces delivers modular PXI, PCI, LXI & USB signal switching and simulation that help to simplify and expedite development and deployment of high-performance automated test systems. We offer the largest range of switching and simulation products in the industry. To support these products, we also offer cable and connector solutions, diagnostic test tools, as well as application software and software drivers.
Contact us to help with your next switch or simulation project.