Pickering Connect – Standard & Custom Connectivity Solutions
Specializing in custom cabling and connectivity requests
Pickering Connect designs and manufactures custom cabling and connectivity solutions, offering cable engineering expertise and quick turnaround on custom cable designs using our in-house PCB and 3D mechanical design, and CNC and PCB component placement capabilities.
15 years experience
Specializing in complex cable assemblies
Free online Cable Design Tool
No minimum order—from 1 to 1,000's
We have vast experience, 15+ years, with test and measurement cables and work with modern components such as mass interconnect solutions, military circular and Harting modular connectors. All of our cables are handmade as we prefer to use hand soldering stations and hand soldering tools. We test all of our cables on modern Cirris cable analyzers; the testing consists of both low voltage testing for continuity, wire resistance and shorts, and high voltage testing for insulation resistance, dielectric failures and overcurrent.
Connect capabilities include:
Automated strip/cut/crimping
Custom backshell labeling and printed heat shrinks
Laser wire stripping Coax, RF cables, assemblies
Test fixture and wire wrapping
Cable lacing
Custom pair twisting
Custom aluminum backshells or other metalwork
Custom cabling with our free online Cable Design Tool
Do you need a custom cable assembly? We can help. You can either send us your drawings or use our online Cable Design Tool. With our Cable Design Tool, you can graphically design your custom cable assembly by using either our built-in library of standard cable sets or create them from scratch. Once completed, our engineers will generate a competitive quote for your cable requirements. Features include: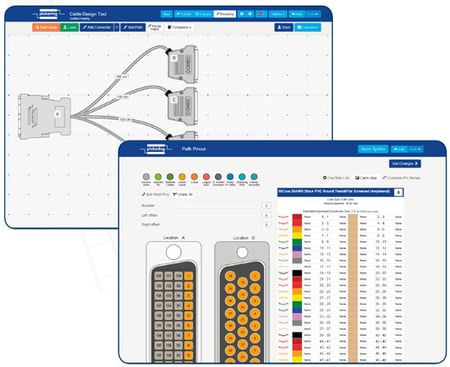 Graphical design of customized cable assemblies
Built-in library of standard cable sets
Ability to store cable assemblies in the Cloud and develop over time
Create a library and share with colleagues
Each cable design has a pdf documentation file detailing all of the specifications
Allows very detailed design characteristics including a selection of connector types, wire type, pin definitions, pin and cable labeling, cable bundling, length selection, sleeving, comments
Add your connectors and wires
Fully supported on major tablet operating systems
The first step to creating a custom cable with us is by using our graphics-based tool, the Cable Design Tool. We have created a tutorial and some example animation to help with using the tool or feel free to start using it by clicking the links here:
About Pickering Connect
Pickering Connect is part of the Pickering Group of companies which started in 1968 with Pickering Electronics, a manufacturer of high-quality reed relays. The group expanded in 1988 when Pickering Interfaces was established. Pickering Interfaces' design, develop and manufacture commercial and custom switching and simulation solutions for the Test & Measurement industry.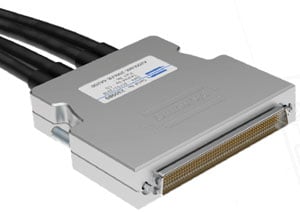 In 2005 Pickering Interfaces opened a manufacturing facility in Třinec, the Czech Republic with a view to design and manufacture cable and connector solutions to ease integration of its products into functional test systems. The facility is now well established, producing a comprehensive range of standard and custom interconnection for all Pickering Interfaces' modules and other test & measurement equipment manufacturers.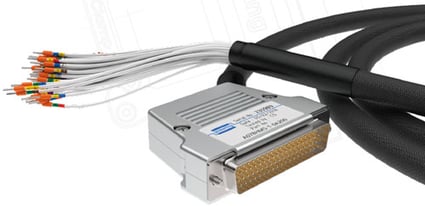 With the increase in the number of requests of these connectivity products for applications outside of the test and measurement industry, the Pickering Group decided to establish Pickering Connect, a new subsidiary for customers seeking connectivity solutions for any application, in any industry and any quantity.
Want to learn more about our connectivity solutions or have questions about our cable design tool? Feel free to contact us by filling out the form below or email sales@pickeringconnect.com.
Contact Pickering Connect