Download or request a hard copy of our free book "SwitchMate - A practical Guide to Switching for Automated Test Systems" . This book offers an overview of switching for automated test systems together with useful information about switching from all possible perspectives – platforms, configurations, connectivity and so on. It provides an overview for those new to switching and a useful source of reference material for the more experienced test engineers.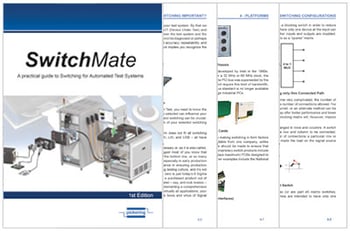 Contents include:
Introduction to Switching Basics
Switching Platforms
Legacy Systems
Switching Configurations
Cables and Connectors
RF Switching
Other Useful Information
Published by Pickering Interfaces, This is a living document that Pickering Interfaces will continue to develop in support of switching standards and their future evolution. We welcome any feedback from users on subjects they would like to be included in future issues.
**2nd Edition - Updated April 2019