Take a look at our white paper: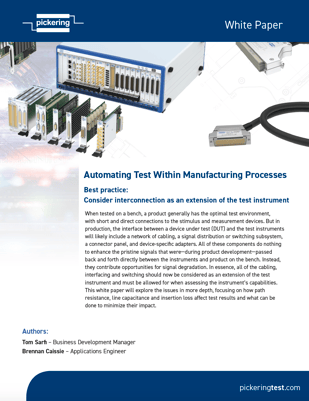 It is best practice when automating test within a manufacturing process to consider interconnection as an extension of the test instrument. Test engineers need to take care of the whole measurement channel by considering everything between the instrument and the DUT, including cables, switching subsystems, connectors and mass interconnect products. The best switch module is rendered virtually useless unless the cabling and the connector types are appropriate for the application and selecting a flexible switching platform that can cover a range of application requirements and provide for future expansion provides a solid foundation for a test system design.
This white paper will explore potential issues in production between a device under test (DUT) and the test instruments, focusing on how path resistance, line capacitance and insertion loss affect test results and what can be done to minimize their impact. Details include:
Objectives of a successful automated test system

Journey of a test signal

Roadblocks

Designing custom cables
If you would like additional information or have questions about this white paper, please contact us.

About Pickering Interfaces
Pickering Interfaces delivers modular PXI, PCI, LXI & USB signal switching and simulation that help to simplify and expedite development and deployment of high-performance automated test systems. We offer the largest range of switching and simulation products in the industry. To support these products, we also offer cable and connector solutions, diagnostic test tools, as well as application software and software drivers.
Contact us to help with your next switch or simulation project.