We have reached a significant milestone in PXI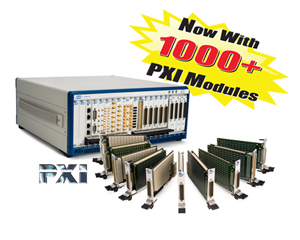 Because in Electronic Test - One Size Definitely Does Not Fit All
With over 25 years of signal switching and instrumentation experience, we have learned that "One Size Does Not Fit All" when it comes to electronic test. Our customers' requirements are very diverse—that is why over the past 18 years, in close cooperation with our customers, we have developed over 1000 catalog PXI switch and simulation modules to handle an enormous range of requirements.
These PXI switching & simulation modules include but aren't limited to:
BRIC™ high density matrices

RF & Microwave matrices and multiplexers

Optical

Fault Insertion

Programmable resistors

Digital I/O
So you may ask why and how we offer such a large range of PXI modules—take a look here:
Take a look at our PXI Module Map - a single sheet reference to entire range of PXI modules.
What are your PXI requirements?
We can help, fill out the form to the right or find your local representative here >>